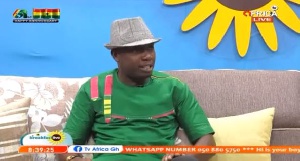 Controversial marriage counsellor, George Lutterodt has called for God intervention to fire his enemies.
The counsellor who has been on the neck of most celebrities in the country took to his social media to say this prayer.

"Oh Lord In every minute, seconds, hour, day, week and in dis month make me solid & back me up with ur grace fight those who fight me by fire by force IJN prayer."

In other reports, the counsellor says beautiful women who have kids out of wedlock make him sad.

Mr Lutterodt, who claims he is also a Sex Therapist, noted that there is no excuse for any woman to have a baby when she is not married.
Speaking in an interview on Behind the Fame on Drive Time on Joy FM with Lexis Bill, he disclosed "what makes me sad is when I see a very beautiful woman, who is born one.

"Especially, not by virtue of marriage or the husband dead but by virtue of unprotected sexual intercourse…I fell so sad and I break down."