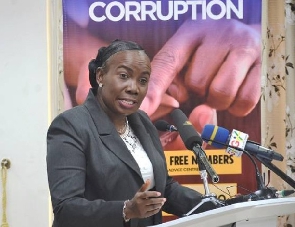 A court of Ap­peal Judge, Jus­tice Afia Serwaah AsareBotwe, has chided lawyers who deliberately misrepresent and misinform the public about court practice direc­tions just to cause disaffection for judges in the country.
According to her even though lawyers were aware of all practice directions issued since 2019, those that related to effective case com­pletion strategies have often been used to bastardised judgesfor no just cause.

Justice Afia Serwaah Asare-Botwe (inset) speaking at the forum Photo: Godwin Ofosu-Acheampong

"There have been several practice directions over the past three or four years and those practice directions were not given under the current chief justice or even the immediate past chief justice, Justice Kwasi Anim Ye­boah. Those practice directions were given under Justice Sophia Akuffo, somehow, the lawyers who are very keen to insist and to make sure that the practice di­rection on disclosure prior to trial is applied to the letter, when it comes to the practice direction on effective case completion strategy which practice direction directed that judges hear case from day to day becomes an issue for same lawyers," she emphasised.

Justice Asare-Botwe who was speaking at a roundtable discus­sion on 20years of the African Union Convention on Prevent­ing and Combating Corruption (AUCPCC) in Accra on Wednes­day, said it was unfortunate that judges who decide to hear cases from day to day would be lam­basted and be made subject of unfair comments.

"Lawyers who are in practice know that there is this practice di­rection, they know that this prac­tice direction, is in use constantly and in civil cases they have no problem because they can make some kind of profit from that and then all of a sudden the judges become the problem, we become the subject for unfair comment, and we cannot issue a statement when we are attacked," she said.
While admitting that there were challenges with the delivery of justices in the country, she said there had been significant improvement placing adjudication in a better stead today than it was some 25years ago.

Justice Asare-Botwe said the delays in hearing cases could not be blamed solely on judges as law­yers and their clients sometimes resorted to tactics such as admin­istrative petitions, interlocutory injunctions and adjournments just to delay their own cases.

She said the judiciary would be organising incessant constant training in order to get the delays out of the way, cautioning that both lawyers and judges must do away with the nonchalant attitude to work.

On her part, a Senior State Attorney, Nana Ama Adinkrah­said the office of the Attorney General welcomed any collabo­ration that sought to strengthen the fight against corruption in the country.

She said the fight against corruption and restoring public trust in the system remained a key priority of the government.
Ms Adinkrah said combating corruption and recovering stolen assets were explicit targets under the sustainable development goals of which the international com­munity had recognised as key to achieving the whole of the 2030 agenda.

"Corruption as we all know is a phenomenon that can sophisti­cate in its manifestation and clear in its implication. Corruption contributes to social and econom­ic dysfunctionality and instability and places the Ghanaian society at risk," she said.

To this end, she said the Attor­ney General's Office was com­mitted to ridding the nation off corruption and this was evidenced by the passage of the Right to Information Act which gave substance to Article 21 (F) of the 1992 constitution.