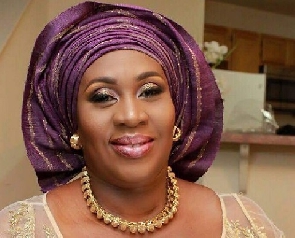 Alex Mould, a former Chief Executive Officer (CEO) of the Ghana National Petroleum Corporation (GNPC), and Gavivina Tamakloe have been ordered to pay a bond of GH¢5 million to the state for failing to produce Sedina Tamakloe Attionu.
The sureties, Alex Mould and Gavivina Tamakloe, secured a GH¢5 million bail for the former boss of the Microfinance and Small Loans Centre (MASLOC), Sedina Tamakloe Attionu, who is standing trial for allegedly causing financial loss of GH¢90 million to the state during her tenure as the CEO of MASLOC between 2013 and January 2017.

The accused person was slapped with a forfeiture of recognisance today (January 24) when the case came up for hearing at the court presided over by Justice Afia Serwah Asare-Botwe, Graphiconline reports.

Per Section 104 of the Criminal Offences (Procedure) Act, 1960 (Act 30), if the two sureties are unable to pay the GH¢5 million bail sum, the court can order the sale of their properties to recover the amount.

On February 7, 2023, the Court will decide whether or not to try Attionu in absentia.

Sedina Tamakloe Attionu failed to show up for the trial for the past 16 months after being granted permission by the court to travel to the USA for medical treatment.
In May 2022, The financial and economic high court denied the request of state attorneys to trial the former chief executive officer (CEO) of the Microfinance and Small Loans Centre (MASLOC), Sedina Tamakloe Attionu, in absentia.

The presiding judge of the case, Justice Afia Serwaa Asare Botwe, said that the case will not proceed until the two people who stood surety for her (guaranteed the bail application for her release) including the former CEO of Ghana National Petroleum Commission (GNPC), Alex Mould, appear in court, asaaseradio.com reports.

The former MASLOC CEO, Sedina Tamakloe, who is accused of causing financial loss to the state and stealing around GH¢93 million from MASLOC coffers has been standing trial since 2020. She has, however, refused to return to Ghana after she was granted permission by the court to travel abroad on health grounds.

NYA/SEA