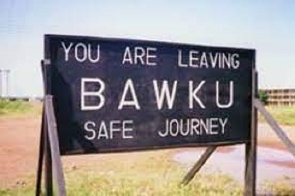 A Bolgatanga High Court has rescinded an earlier order for the arrest of the newly-installed Bawku Naba and Overlord of Mamprugu.
The warrant and an attempt to effect the arrest of the two led to clashes at Nalerigu on Sunday midnight between soldiers and angry youth of the town.

The soldiers who were acting following a warrant issued by the court for the arrest of the two traditional leaders were met with stiff opposition by the youth of the town.

In the new order issued on February 21, 2023, the court led by Justice Alexander Graham said: "Upon hearing the affidavit of the Lieutenant Colonel Ajibadeck Bemjamin Baba (Retired) for variation of an order for warrant of arrest.

"And upon hearing Mrs. Joyce Debrah (Principal State Attorney)
"It is hereby ordered that the warrant of arrest issued for the arrest of Naa Bohugu Mahami Abdulai Sheriga (Paramount Chief of Mamprugu Traditional Area and his king makers is hereby rescinded under the inherent jurisdiction of the High Court."

Background:

The development comes after the Government of Ghana condemned the installation of a new chief for Bawku by the King of the Mamprugu Traditional Area, Naa Bohugu Mahami Abdulai Sherigah II.

In a statement issued by the Ministry for Information, Kojo Oppong Nkrumah, on Wednesday, February 15, 2023, the government said that Naba Asigri Abugrago Azoka II is still the Bawku Naba.
It added that the security apparatus in Bawku have been instructed to arrest anybody who holds himself as Bawku Naba other than Naba Abugrago Azoka II.

"The Government condemns developments in Nalerigu, today, February 15, 2023, concerning the purported enskinment of a new Bawku Naba as illegal and a threat to National Security.

"Government further re-iterates that Naba Asigri Abugrago Azoka II is the Bawku Naba, duly gazetted and a member of the National and Upper East Regional Houses of Chiefs.

"The Security agencies have therefore been directed to arrest and prosecute any other person who holds himself out as a Bawku Naba. Further, any developments that have the potential to undermine the peace of Bawku will also be dealt with swiftly and in accordance with the law," the statement issued by the government read.
The King of the Mamprugu Traditional Area, Naa Bohugu Mahami Abdulai Sherigah II, enskinned a new chief for Bawku in the early hours of Wednesday, February 15, 2023.

The new chief, who was enskinned at the Nayiri palace in Nalerigu, is called Alhaji Seidu Abagre, GhanaWeb can confirm.

View the full statement by the government plus a video of the installation of the new king below:




You can also watch this episode of People & Places here:



SARA