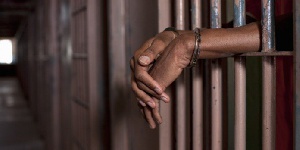 Fri, 26 May 2023 Source: GNA
The Jasikan Circuit Court has convicted a 19-year-old, self-employed, Attah Prosper Yaw, to sign a bond to be of good behaviour for two years for stealing a 35-kilogram bag of dried cocoa beans.
Attah would serve three years imprisonment in default on the bond.

The Court also ordered the accused person to refund GH¢800 being the value of the bag of dried beans to the complainant.

Assistant Superintendent of Police (ASP) Seth Vincent Kpodo, Prosecuting, told the Court presided over by Alfred Kwabena Asiedu that the complainant, 58, was a farmer while the accused person was self-employed, and both were residents of Likpe Bakua.

He said the complainant had a cocoa farm located along the Likpe Bakua and Wli roads.

ASP Kpodo said the complainant recently harvested some cocoa and dried the beans in his farm cottage.

He said on May 1, this year, the complainant spotted the accused person and others conveying lumber from a nearby forest through his cottage.
He said in the midnight of May 2, the accused person sneaked into the cottage and made away with the complainant's cocoa beans valued GH¢800.

ASP Kpodo said in the early hours of the day, a witness in the case detected the theft and informed the complainant accordingly.

He said the complainant, after hearing the news, proceeded to the farm and realised that a bag of cocoa beans had been stolen.

ASP Kpodo said a personal inquiry by the complainant revealed the accused to be the culprit.

He said the complainant informed the Police and the accused person was arrested, adding that, during interrogations, he admitted stealing the cocoa beans.

ASP Kpodo said a search conducted on the accused revealed nothing of evidential value as he claimed to have sold the stolen item but also failed to assist police to trace the buyer.
Source: GNA