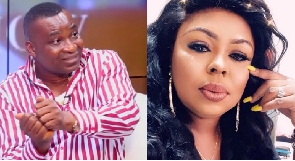 A Tema High Court has dismissed Chairman Wontumi's latest charges filed against Afia Schwarzenegger.
Not too long ago, the Ashanti Regional NPP Chairman dragged Afia Schwarzenegger to court for allegedly violating the terms of her release in a previous contempt case.

However, after a first hearing of the case, it has been thrown out.

According to Afia's lawyer, Capt. RTD. Nkrabeah Effah Darteh, they arrived in court only to meet the absence of the complainant and his lawyers.

He also established that he only saw the writ of summons in a couple of newspapers, adding that he and his client were not served any notice to appear before the court on May 17, 2023.

Based on this development, Capt. RTD. Nkrabeah Effah Darteh pleaded with the court to dismiss the case.
According to him, the court heeded him, and the case was dismissed primarily due to the absence of Chairman Wontumi and his legal team.

"Chairman Wontumi dragged Afia Schwarzenegger to court over a defamation case. In that case, Afia was fined for contempt and made to sign a bond of good behavior. One morning I bought some newspapers and I saw an article in Chronicle and Daily Guide that on May 17, Afia would be arraigned before the Tema High Court. I didn't understand because nobody served us papers. The court's registrar said they weren't given papers to bring to us so what happened?

"I told Afia Schwarzenegger that we weren't served papers, but if we don't go to court, only God knows what might happen. So, we went to court, and they called out the case; Valentina Nana Agyeiwaa (Afia Schwarzenegger Vs. The Republic. Then I told the court that there is nobody present for the hearing. Chairman Wontumi, who happens to be the complainant, is missing in court. His lawyer, Maurice Ampaw, is also missing in court. Also, we weren't served any papers. So, I prayed the court to dismiss the case. I told the court that I am a lawyer with 37 years of practice. I asked to be given GHC10,000 but the court said they'll give me GHC2,000 and also throw out the case," he stated in an interview with UTV.

Background

Afia Schwarzenegger was dragged to court in a fresh case, for violating the terms on which she was freed in an earlier contempt case.
One can recall that after Chairman Wontumi slapped the comedienne with a defamation lawsuit, she reportedly failed to show up in court despite several cautions.

Things escalated, and she was sentenced to 10 days in prison, on the grounds of Contempt of Court, but she went into complete hiding.

She later turned herself in, issued an apology with remorse, and her lawyer prayed to the court that his client should be made to pay a fine instead.

In order to annul the 10-day prison sentence, the socialite was ordered to sign a bond of good behavior for 36 months, in addition to a fine of GHC60,000.

Afia was also ordered not to comment on the case on any platform during the pendency of the bond, with the court directing that any breach of these orders will warrant the socialite being hauled back.
But Chairman Wontumi, after analyzing events closely on social media, came to the realization that the socialite did not heed any of the court's rules.

In that regard, Wontumi's counsel issued another lawsuit seeking the court to haul back the comedienne.

"The counsel for and behalf of the applicant herein will move this honorable court for an order praying the honorable court to punish the respondent herein for continuing contempt arising from respondent violation and disobedient to the terms of the judgment of this court," parts of the statements made available to GhanaWeb read.


Watch the latest episode of Nkommo Wo Ho below:





EB/OGB