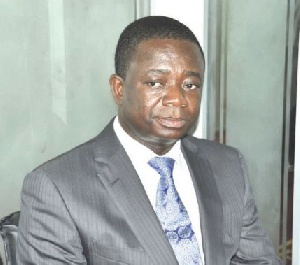 Criminal High Court Presided over by Court of Appeal Judge sitting with additional responsibility as a High Court Judge, Justice Clemence Hoyennuga, has adjourned sitting to Wednesday 13th June 2018, to deliver it's ruling on an application by lawyers of the accused persons demanding pre trial disclosure of all documents before trial commences.
Today in Court

The Presiding Judge explained that he was waiting for a certified true copy of the Supreme Court decision delivered on the 7th of June 2018, on pretrial disclosure in criminal trials to guide his ruling.

He assured that the registrar of the Supreme Court has given him his word that he will furnish him with same by close of day today.

Lawyers Assiamah Sampong, Chief State Attorney represented the State in Court.
Lawyer Samuel Codjoe, appeared for the first accused person, Stephen Opuni.

Lawyer Benson Nutsukpui, President of the Bar Association, appeared for second and third accused persons, Seidu Amigo and Agricult Ghana Limited. Both Accused persons were present in court.