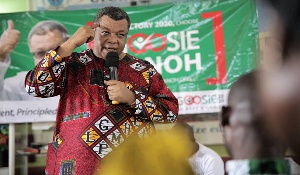 Create a betteGoosie Tanoh, one of the presidential aspirants of the National Democratic Congress (NDC) has urged delegates to secure the future of their children with a vote for him in the party's December 7 Presidential Primary.
He said his candidature, which will drive societal change and development to improve the lives of the individual, is a sure bet to creating a beautiful future for generations.

Addressing cheering delegates at Zuarungu in the Upper East Region during his campaign tour on Friday, Mr. Tanoh reiterated his commitment to creating a future with opportunities for all, especially children from rural communities.

He said the future of the country rested largely on the shoulders of children and it would take a visionary leader like himself to secure their tomorrow against hardship.

"You need to secure the future of your children. Create a better future for your children by voting for me in the primaries on 7th December".

On winning back power in Election 2020, the renowned Lawyer stated that it will be achievable if the umbrella fraternity chooses competent and accountable leaders to front affairs of the party. He urged the delegates to entrust their votes in the hands of decisive and visionary leaders who can overturn the embarrassing defeat the NDC suffered in Election 2016.
He also called for a complete rebuild of party structures as a way of preparing toward the next general elections.

Mr. Tanoh touted the great standards and values of the NDC and strongly entreated the delegates to work in unison for the overall development of the party, with a call on members to desist from committing the old mistakes that have not yielded the desired results. He also spoke on vote buying and cautioned delegates against allowing "people with money" to control the party.

He stated his dislike for vote buying, saying it was responsible for the plague of corruption cases that have persistently bedeviled the current and past governments.

Mr. Tanoh who is in the National Democratic Congress Presidential Primaries race with 12 other aspirant including Ghana's Former President John Dramani Mahama, in his speech also made suggestions asking for the payment of monthly dues to be paid by members to help finance the activities of the party.

The astute lawyer who wants to lead the biggest opposition party ended his campaign speech with a passionate appeal to delegates to choose right by voting massively for him as flagbearer of the National Democratic Congress who will lead the party to the 2020 General Elections.r future for your children by voting for me- Goosie Tanoh