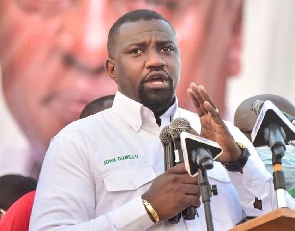 Ghanaian actor turned politician, John Dumelo, has expressed his opposition to the Ghanaian government's decision to implement a 10% tax on earnings from lotteries, games of chance, and sports betting.
The new tax policy is part of the government's efforts to increase domestic tax revenue and expand the tax base.

In a tweet, Dumelo criticized the government's decision and noted that the youth, who have created their own jobs through sports betting and other forms of gambling, would rise against the government if the tax policy is implemented.

He argued that instead of taxing the youth's winnings, the government should focus on creating jobs and providing economic opportunities for the youth.

"Create jobs; you won't create. The youth have created their own jobs too; ahhh, you want to tax their winnings...continue. That day will come when the youth will rise against you. It will be too late," he said.

Dumelo's comments have sparked a heated debate on social media, with some Ghanaians supporting his position and others criticizing him for promoting gambling and opposing a legitimate tax policy.
John Dumelo is not new to the political scene in Ghana. He contested for a parliamentary seat in the 2020 general elections under the ticket of the National Democratic Congress (NDC), but lost to his opponent from the New Patriotic Party (NPP).

However, he has remained vocal on issues affecting youth and has used his platform to advocate for their interests.


Create jobs, you won't create. The youth have created their own jobs too ahhh, you want to tax their winnings…..continue. That day will come when the youth will rise against you. It will be too late.

— Farmer John (@johndumelo) April 6, 2023
Watch the latest episode of Talkertainment below:
Watch Moans & Cuddles below:





ADA/BB