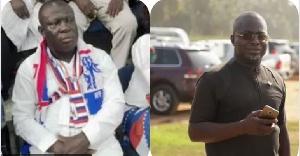 A seeming conflict among executives of the New Patriotic Party in the Western Region took a dramatic turn Monday morning when one of the two factions in the party broke into the office of the regional Secretary, Charles Bissue, to change the locks.
A source at the party's regional office told Takoradi-based Connect FM that the action was on the instructions of the regional chairman, Dickson Attah-Nketiah, who is said to be on one side with some of the executives, and Mr Bissue on the other.

Connect FM gathered the party's chairman convened a meeting at the weekend without inviting the secretary and others in his camp. Sources say it was at that meeting that a decision was taken to break into Mr. Bissue's office.

"The regional deputy secretary Samuel Kofi Abiaw and some boys came to the office, broke the key nob and went into the office," the source told Connect FM, and added that minutes later, the boys came out and changed the locks to the office.

When contacted, personal secretary to the regional chairman, Tony Nketsia, confirmed the locks to the party's regional secretary's office have been changed.

"We needed the office to work and since the regional secretary was not responding to our calls to come open the door, we opened it," he Skyy Power FM

However, the Regional secretary told Connect FM he was shocked by the action, especially so since no one asked for the keys whatsoever to his office.
"In any case, I don't always have to be physically present in the office before I can work", he fumed when asked to comment on claims that he is not accessible to the party people in the region.

He indicated he is yet to go to the office and will know what to do next after he has ascertained things for himself.

Return party vehicle, documents – Chairman demands

Meanwhile, the regional chairman in a letter dated March 12 and addressed to Mr. Bissue demanded the release of a Mitsubishi L200 pick-up vehicle and documents covering it and another vehicle, a Kantanka )mama pick-up.

The chairman stated in the letter that the two vehicles were given to the secretary in December 2017 but he only returned the Kantanka pick-up without its documentation.

"You unilaterally decided to keep possession of the Mitsubishi L200 pickup and its documentation without my consent and approval," the letter stated.
The chairman claimed in the letter several efforts to get Mr. Bissue to return the vehicle as well as the documents covering it and that of the Kantanka vehicle have been unsuccessful.

"To my utmost dismay, you told me you have registered the car (Mitsubishi)…without my consent and authority even though you are aware that you do not have such authority to deal with such property of the party in that manner.

"I, therefore, find your conduct with respect to how you have handled the two pickups to be unreasonable and gross disrespect to my office," he stated.

He has therefore given Mr. Bissue up to Friday, March 16 to return the Mitsubishi and the documents covering the two vehicles "without fail"