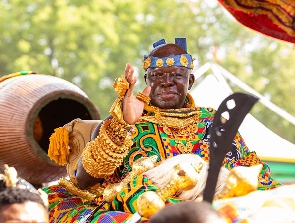 The Asantehene Otumfuo Osei Tutu II has urged the government and stakeholders to take a lesson from the country's current economic woes in order to avoid future occurrences.
According to him, it is time for Ghanaians to desist from wasteful spending and make wise use of natural resources so that the economy is not overburdened.

"The current economic difficulties should serve as a wake-up call for all of us to carefully review our economy and implement some significant adjustments.

"The moment has come for us to reduce wasteful spending and direct resources towards economically productive areas in order to improve the quality of life of our people," he said.

Speaking at the 56th congregation at the Kwame Nkrumah University of Science and Technology (KNUST) in Kumasi, the capital city of the Ashanti region, on March 17 2023, Otumfuo further admonished the government to be transparent with its citizens while dealing with the economic difficulties of the nation.

"I want to implore the government to demonstrate a high level of transparency and be candid in these difficult times in order to win the trust and confidence of the general public," Otumfuo added.

Otumfuo, while discussing the government's domestic debt exchange program, remarked: "Our debt level has become unsustainable pushing the government to roll out a domestic debt exchange programme that aims to restructure the nation's debt and ensure some fiscal space for the country to operate.
"Sadly, it appears public consultation did not take place before the programme commenced. The nation is currently in a tense mood even though the government has announced the completion of the programme

"Government should be more accommodating and reach out to those who may even oppose them politically…and we must all work together to prevent the collapse of the economy. No one can pretend not to see the difficult times that we find ourselves in."

Government is seeking a programme with the International Monetary Fund (IMF) with the view to salvage the economy which suffered a torrid 2022 characterised by a depreciating currency, galloping inflation and a general increase in the cost of living.

On the other hand, President Nana Addo Dankwa Akufo-Addo is optimistic that Ghana will conclude talks with the International Monetary Fund (IMF) on a possible financial bailout programme.

AM/SARA