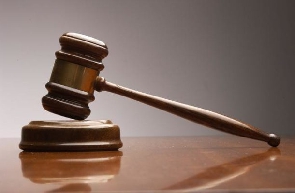 Thu, 23 Mar 2023 Source: GNA
An Accra Circuit Court has remanded a customs officer and two others accused of stealing gold valued at USD4,303,234.00 belonging to GND Global Trading LLC.
Emmanuel Dwamena, 37, the Customs Officer, Abdul Karim Lakoh, 38, and Seth Dzamesi, 43, both businessmen, denied conspiring to steal the 75 kilos of gold bars.

They would be brought back to the Court on March 27, 2023.

Meanwhile, their accomplice, George Asamoah, is on the run.

Prosecuting, Deputy Superintendent of Police (DSP) Evans Kesse, said the Complainants: Abdallah Ali, Farhad Sami, and Zev Volf, were citizens of the United Arab Emirates and Australia, respectively. Lakoh is a Sierra Leonean, as Dzamesi, a Ghanaian, claimed to be a businessman, residing at Tantra hills, and Dwamena, the customs officer, also a Ghanaian, resided at Kasoa, and Asamoah was at large.

He said in March 2023, the complainants went to Sierra Leone to buy Gold, and Lakoh, who was among the people who sold the gold to the complainants, promised to assist the complainants from Sierra Leone through Ghana on transit to Dubai with the gold.
DSP Kesse said on March 16, 2023, the Complainants and Lakoh arrived at the Kotoka International Airport with Sky Airline with their personal belongings, including 75 kilos of gold bars.

However, when the complainants landed at Kotoka International Airport Ghana, Lakoh managed to come out from the arrival hall, and Asamoah, now at large on cell phone 0269736510 and Asamoah came to the Airport in a black Range Rover vehicle to pick Lakoh out of the arrival hall.

The Court heard that they met Dzamesi, who was also using customs branded Toyota Hilux Pickup with registration number GX stole the bag containing the 75kg of the gold bars and kept it in the Toyota pickup.

He said whilst the complainants were at the transit arrival hall, an Immigration officer sneaked the complainants from the arrival hall and handed them over to Dwamena at the departure hall and he drove them to a supposed customs bonded warehouse at East Legon, Accra with House No.18 Shamo Kwei Avenue, to meet Dzamesi who posed as a customs officer.

The prosecution said the bag containing the 75 kilos of gold bars was sent to his office, where Dzamesi forced the complainants out of his office after taking the gold. Dwamena drove the complainants back to the Airport and abandoned them.
At the Airport, the Court heard that Lakoh attempted to escape but he was arrested and handed over to the Airport Police for investigation.

Further background checks on Lakoh indicated that the whole gold scandal started in Sierra Leone and with the help of Dwamena and Asamoah who happen to be their Ghanaian accomplices, they succeeded in stealing the 75 kilos of gold bars from Kotoka International Airport.

He said the accused persons admitted the offence in their cautioned statement that they hatched the plan from Sierra Leone and with the assistance of the Ghanaian accomplices in Ghana to steal the gold. Efforts are being made to arrest the other accomplices.

You can also watch this episode of People & Places here:


Source: GNA