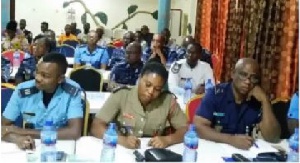 Deputy Commissioner Board Secretariat Management Services of Ghana Revenue Authority has urged custom officers to pay detailed attention to ascertain the right classification of goods and services in order to generate more revenue.
The Deputy Commissioner, Mr Godwin Attor, said the issue of classification was core to the functions of custom officers, and so any wrong classification could result in generating and applying wrong duty rates.

Mr. Attor made the appeal during a staff sensitisation forum on Customs Act 2015 (Act 891) and Customs Regulation, LI2248 in Wa.

The forum was meant for both custom officers and relevant stakeholders to have deeper understanding of Ghana's custom law and the way they worked.

Custom officers were urged to be efficient with their job.

They were also cautioned that any officer who failed to classify an item right, commited an illegality and could be punished accordingly.

Mr Attor said an offence against a provision in the custom law was criminal and that crime had no statute of limitation and the rules in the previous laws which were scattered had been re-organised in the current Act 891 to make it more effective.
"You realised that the current custom law, Custom Act 891 had made emphasis on risk management in the area of controls because customs will like to open up and importers will like to facilitate International Trade – so the risk management came in for us to do that facilitation and also to optimize revenue collections", he said.

He explained, for instance, that Post Clearance Audit Unit as a control measure was to make sure that even after one had gone through clearance procedure; custom could still follow the person to check on his/her books to know whether there had been any violation of the custom law.

Mr Attor also noted that risk profiling normally was based on history, saying: "you are an importer, we profile you and then we know when we will ask you to go through intrusive examination".

"If you are not compliant, then it means that risk is very high and so that one we will want you to go through intrusive examination", he added.

Where the risk level was very low, he said, officers might use the Post Clearance Audit to follow the person up after he/she had been cleared.