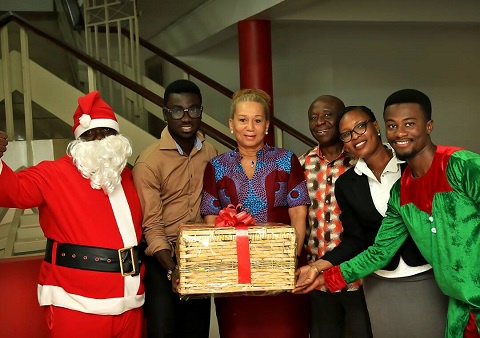 Fri, 29 Dec 2017 Source: Vodafone Ghana
Three hundred loyal Vodafone fixed broadband customers have expressed their gratitude to the telecommunications giant, for surprising them in their homes with exquisite hampers during the festive season.
The initiative which is dubbed 'Santa In The Home', is one of the many customer rewards programmes Vodafone outlined as part of its Super Red Christmas campaign, to reward all customer touchpoints within the various segments.

One of the beneficiaries, Yvette Charol who commended Vodafone for the gift said:

''I initially thought it was a scam, so I didn't believe it until Santa and the team knocked on my door and delivered the hamper to me. I am grateful to Vodafone and I sincerely appreciate the fact that you came all the way to my home to deliver it.''

Expressing his excitement, William Darkwah, another loyal Vodafone fixed broadband customer said:
''It was a big surprise for me, I never expected it! The hamper is befitting and the packaging was done with the family in mind. We sincerely appreciate and thank Vodafone for this.

In a message to Vodafone, Dr Pat Brown another loyal customer and a beneficiary of this initiative wrote: 'Vodafone has done something really special for me. Thank you and merry Christmas.

Other activities underway for the month include "Insomnia Movie Night" for Vodafone-X customers, the annual shopping mall activations, and free Uber rides for some retail customers. Vodafone's "Akwantuo Aye Free" initiative also paid the transport fares for hundreds of Ghanaians at various bus terminals in Accra on December 23rd to enable them spend the season with their families.
Source: Vodafone Ghana