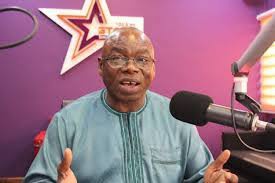 The former chairman of the African Union Advisory Board on Corruption, Daniel Batidam has described as refreshing the nomination of Cynthia Lamptey as the deputy Special Prosecutor.
The nomination of the former Director of Public Prosecutions (DPP) was announced Thursday, April 26, by the Speaker of Parliament Prof. Mike Oquaye when the MPs reconvened for urgent business.

Lamptey will be deputy to veteran lawyer Martin Amidu if she sails through vetting at Parliament, reuniting the two having worked together at the Attorney General's Department when the latter was the minister under the Mills administration.

As the country's chief prosecutor, Lamptey handled several high-profile prosecutions including the case of the alleged stealing of GhC86.9 million by an Executive Director of the National Service Scheme and the criminal prosecution of Alfred Agbesi Woyome.

Commenting on her nomination on Starr Today, Batidam who advised former President Mahama on corruption said the former Director of Public Prosecutions' lack of political tagging will go a long way to disabuse the notion that the Special Prosecutor's Office will be used to witch-hunt former employees of the erstwhile Mahama administration.
"For me, perhaps, an important characteristic of hers…in comparison with her boss [Martin Amidu] is the fact that she has no political tag on her [and] I think that is very important because whether you liked it or not, Martin Amidu's association or his belonging to a political party in the past and all the things we know about him could affect his job. It's a credible perception which we cannot brush away," he told Starr Today's co-host Atiewin Mbillah-Lawson.

He added: "If he now has a deputy who from the little we know so far comes basically more from the public or civil service background and less of a person carrying, if you wish the kind of excess baggage with which Martin Amidu comes within the office, I think that would be helpful especially, giving that this is an office that it is supposed to be from where I sit the rallying point of the fight against corruption as this prosecutorial dimension is concerned.

"It is important that the occupants of these positions, the positions of the special prosecutor and the deputy are persons not just with the requisite qualifications but also with the character and the sense of objectivity and impartiality which is critical for mobilising and rallying all of us in the fight against corruption."