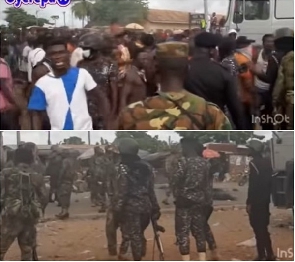 The District Chief Executive (DCE) of Obuasi East, Faustina Amissah, has confirmed reports that personnel of the Ghana Armed Force were deployed to Obuasi over the commotion surrounding reports of illegal miners being trapped in a mine shaft belonging to AngloGold Ashanti.
GhanaWeb reported the presence of the military in the community on May 31, 2023, after a viral video showed the men clashing with some residents of Obuasi.

According to the Obuasi East DCE, some illegal small-scale miners started pelting stones at the military officers protecting AngloGold, The Chronicle newspaper reports.

This, she said, forced the army to call reinforcement from its 2BN in Kumasi, to help its officers protect the workers of the company because the illegal miners were on rampage.

"They were stoning the soldiers because they have now realised that after all, AGA soldiers will or shout because of their corporate image are working on certain things to have a local soldier barracks," she is quoted to have said in an interview with The Chronicle.

The DCE also said that only 101 illegal miners were trapped and not 300 as reported in the media and that all of these people have been arrested.
She was worried about the failure to stop the galamseyers from entering the mining pits of AngloGold Ashanti.

She warned that if people are not stopped from illegally entering the mine it might, one day, collapse; adding that "If not before we realise, we have to close down the mines again," he said.

Meanwhile, watch a snippet of GhanaWeb TV's latest program that focuses mainly on Everyday People below:




You can also watch the latest episode of People & Places on GhanaWeb TV:








IB/OGB