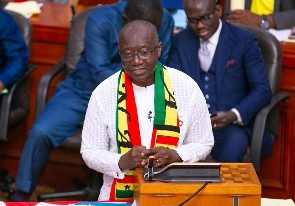 The government has reached an agreement with the Ghana Association of Banks on the Domestic Debt Exchange Programme (DDEP) following discussions.
The government had earlier revealed that new bonds under the programs were not to accrue any interest until 2024.

The government had also explained that the coupon will attract a 0% coupon in 2023.

It was also agreed that the interest will move up to 5% in 2024 and 10 % from 2025.

However, the government has reached new terms with the banks.

A statement issued by the Finance Ministry said bondholders will now enjoy a 5% coupon in 2023.

The statement was jointly signed by the Finance Ministry and Ghana Association of Banks.
The agreement reached are as follows;

a. An agreement to pay 5% coupon for 2023 and a single coupon rate for each of the 12 new bonds, resulting in an effective coupon rate of 9%.

b. Clarity on the operational framework and terms of access to the Ghana Financial Stability Fund (GFSF).

c. The removal or amendment of all clauses in the Exchange Memorandum that empower the Republic to, at its sole discretion, vary the terms of the Exchange.