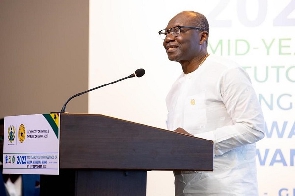 The Ministry of Finance said it has secured GH¢3.9 billion from its reopened domestic debt exchange programme.
According to the government the invitation for application ended on September 22, 2023.

A statement by the Ministry noted that the results represent a significant achievement for the government, which is seeking to fully implement its COVID-19 programme for economic growth in the face of the prevailing economic situation.

It further noted that no new tenders will be accepted, and no revocations or withdrawals will be permitted.

"The settlement of the New Tranches pursuant to the Invitation to Exchange is expected to occur on 29th September 2023, when the Government will issue the New Tranches to Eligible Holders whose offers have been accepted for credit to the account of such tendering Eligible Holder at the CSD," the statement added.

Below is the full statement:
THE GOVERNMENT ANNOUNCES RESULTS OF THE REOPENING OF THE DOMESTIC DEBT EXCHANGE

The Government announces today the results of the reopening of its domestic debt exchange which closed at 4:00 p.m. on 22nd September 2023. Holders eligible to participate in the reopening (as determined by the Central Securities Depository) tendered an aggregate amount of GHS3,990,828,533 of outstanding Eligible Bonds. Capitalised terms used but not defined herein have the meaning ascribed to such terms in the Exchange Memorandum (as amended from time to time) available at https://projects.morrowsodali.com/GhanaDDE and https://mofep.gov.gh/news-and-events/debt-operations.

2. The Government deeply expresses its appreciation to bondholders and key stakeholders for their immense support of the Domestic Debt Exchange Programme (DDEP), the results of which constitute a significant achievement for the Government to implement fully the economic strategies in the post-COVID-19 Programme for Economic Growth (PC-PEG) during this current economic crisis.

3. Attached overleaf as an Appendix Table presents the details regarding the results of the reopening of the domestic debt exchange.

4. As the Invitation Period has expired, no new tenders will be accepted, and no revocations or withdrawals are permitted. For more details on these procedures, please refer to the Exchange Memorandum or contact the Central Securities Depository (CSD) at the contact information below.
5. The settlement of the New Tranches pursuant to the Invitation to Exchange is expected to occur on 29th September 2023, when the Government will issue the New Tranches to Eligible Holders whose offers have been accepted for credit to the account of such tendering Eligible Holder at the CSD.

The Government reserves the right to extend such settlement date (including with respect to one or more series of Eligible Bonds). END

ISSUED BY THE PUBLIC RELATIONS UNIT

MINISTRY OF FINANCE

SSD/NOQ
Ghana's leading digital news platform, GhanaWeb, in conjunction with the Korle-Bu Teaching Hospital, is embarking on an aggressive campaign which is geared towards ensuring that parliament passes comprehensive legislation to guide organ harvesting, organ donation, and organ transplantation in the country.

Watch the latest edition of BizTech below: