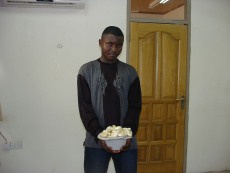 Fri, 9 Feb 2007 Source: Times
Abraham Otibah, 36, a Ghanaian resident in Italy, has been arrested by personnel of the Narcotics Control Board (NACOB) for swallowing 115 pellets of substances believed to be cocaine.

The haul is one of the highest recorded by the NACOB in recent times.


Briefing the Times yesterday, the acting Deputy Executive Director of the Board, Mark Ewuntomah, said Otibah was arrested at about 7 p.m. at the Kotoko International Airport on Sunday when going through departure formalities for Italy where he has been residing for 10 years.


Mr. Ewuntomah said Otibah's demeanor coupled with the sluggish manner in which he moved around aroused the suspicion of NACOB personnel at the Kotoka International Airport who arrested and took him to the 37 Military Hospital where X-ray examination which revealed that he had foreign materials in his stomach.


He said Otibah was then put under observation during which period he was induced to expell 115 pellets, leaving two in his stomach.


Mr. Ewuntomah said that when Otibah was interrogated, he said the drugs were given to him by someone to be delivered to somebody in Italy for a fee of 4,000 euros. It took personnel of the board four good hours before Otibah admitted the offence, he said.


When Otibah's passport was checked it revealed that he was a frequent visitor to Ghana.

"The passport revealed that, he came to Ghana in December first in 2006 and returned on 31st the same month," then again came to Ghana on January 31 and was returning on Sunday February 3 when he was arrested."


Mr. Ewuntomah said Otibah is still under observation to enable him to expel the remaining two pellets left in his stomach.


He said Otibah will soon be put before court while, the expelled substances will be forwarded to the Ghana Standards Board for analytical examination.


Mr. Ewuntomah warned that the security personnel will deal with any body caught dealing in drugs, stressing that security agencies were determined to clamp down activities of drug couriers.


He appealed to the public to assist the Board and other security agencies by volunteering information on drug dealers.

Source: Times