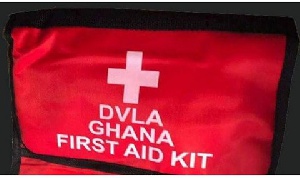 Management of the Driver and Vehicle Licensing Authority (DVLA) has suspended the compulsory levying of vehicle owners to get first aid kits as a prerequisite for the annual vehicle registration process.
In a statement signed by the DVLA Board Chairman on Thursday, January 4, 2018, the DVLA said it had "suspended and put on definite hold" the sale of the kits as a result of "public outcry and concern about the related pricing."

"The Governing Board of the DVLA acknowledges that there has not been the necessary public education, discussion and sensitizing with relevant stakeholders...We unreservedly apologize to the general public for any inconvenience occasioned," the statement added.

Halt Mandatory Levy

The suspension comes after the Ministry of Transport sent a strong caution to the DVLA and instructed them to stop the levy.
A Deputy Transport Minister, Daniel Titus Glover, who revealed this in an interview with XYZ News stated that his ministry was not informed of the development before the DVLA imposed the selling of those kits on drivers at the exorbitant price.

There was a public outcry on Wednesday over the mandatory levying of vehicle owners of GHC108 for First Aid kits.

But Mr Glover, who had earlier condemned the action of the DVLA and said its decision was to make the government unpopular, stating that: "The ministry is not happy about this compulsory fee being charged. We were not aware until the public started complaining about it. Drivers must have choice about what they may want to use as a First Aid kit in their cars. The choice is on the driver to walk into any shop and buy their own First Aid Kits, and they should have the opportunities to bargain for the price of that product, but when they are ambushed at the DVLA, think it is not the best. We have told them they should hold on," he clarified.

He went on to add that the Sector Minister had already instructed all agencies under the ministry to consult the necessary authorities before they come out with any policy so the management of the DVLA should have known better with their decision on the kits.