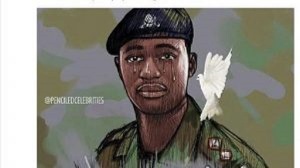 The funeral of the late Major Maxwell Mahama is currently underway at the State House.
The deceased captain, who was given a posthumous promotion to Major, was lynched somewhere last month by irate residents of Denkyira-Obuasi.

In the tribute to their father, the children spoke on their relationship with their father, stressing that they were waiting on him to give them the "ice cream" he promised them.

Read the whole tribute below;

Dear daddy, we were told you travelled.
You told us you were going to come back. We spoke by phone almost every day. We told you to come and take us swimming and to play tennis and you said okay. We have been waiting for that ice cream you promised us.

We miss playing with you. We miss the dancing moves with mummy, and the laughter that fills our home when you are around.

We miss the Akosombo trip, we miss you coming for us from school and spending time with us before mummy comes.

Daddy, we miss going to the Turkish restaurant with you alone to spend "boys boys" time. We miss you chasing mummy around when she takes your meat from your food, and we miss eating together as a family.
We miss you calling us to pray together and we miss you sitting us down to talk to us about life even as young as we are.

Daddy, anytime you were going out, you called us to tell us you would be back and that we should take good care of mummy and not stress her, and since you have kept long in coming, we assure you that we will take good care of mummy and not stress her out.

We really miss you and we are waiting to see you again. We love you very much and we know you love us because you cared for us and you always signed off your calls with "I Love You".

To the world's best and greatest daddy, we say we love you and we thank you for blessing us. You are simply irreplaceable. With Love, from Jaden and Jerry. Dignitaries from Ghana and beyond have graced the event.
Former president John Agyekum Kufuor and John Dramani Mahama were among some dignitaries present alongside, Nigerian actor, Hank Anuku. You can get more photos from the funeral grounds here.