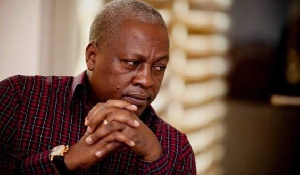 The Editor-in-Chief of the Informer newspaper, Kobby Fiagbe has denied the Daily Graphic publication that stated that the former President John Mahama will not run on the ticket of the NDC for election 2020.
Just three days after the curtains were closed on his tenure, there was mounting debate between former President Mahama's family and a section of the NDC party.

While his immediate family insists that the former President should call off time on local politics, some leaders of the NDC rejected the idea, insisting that Ghana's first one-term President is the NDC's best bet for election 2020.

Addressing a group of senior journalists ahead of President Akufo- Addo's swearing-in, former President Mahama's younger brother and Chief Executive of Engineers and Planners, Ibrahim Mahama, said the former President's family had been advising him not to contest the NDC primary to select a candidate for 2020, adding that "he President Mahama had agreed with us."

But Mr Fiagbe says only Mahama's family cannot prevent him from contesting the 2020 election, unless the NDC party is in equal support of the idea.
"Mahama has a big family including the NDC family, we the NDC haven't said anything yet about Mahama's 2020 bid, if we'll do so that will be when we go on congress. The Graphic published a total lies about Mahama", he categorically said on Asempa FM.

He also stated that the NPP is devising all means and strategies to discredit former President Mahama since he is the greatest threat to Akufo-Addo's longevity in power.

"The NPP is on a mission to label former president Mahama as a greedy person, a person who doesn't have the country at heart and all that but all the numerous plans by the NPP to damage former President Mahama's image will not work," he said.