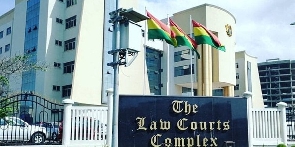 Litigants have been left frustrated as Justice delivery has come to a halt following the declaration of an indefinite strike action by JUSAG.
The Law Court Complex which houses over 40 High Courts and offices has been left virtually empty.

Litigants have been left in darkness not knowing when staff are back and their cases would be adjourned.
Public interest cases like Aisha Huang, JB Danquah Adu's case, Cassiel Ato Forson, former deputy Minister of Finance are all in limbo now.

EIB Network's Legal Affairs Correspondent, Murtala Inusah who is at the court monitoring events reports that the police are stationed at the court premises to ensure law and order.