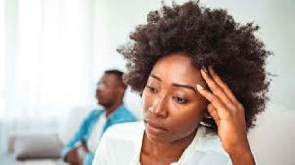 Dear GhanaWeb,
I have been married to my husband for eight years and out of those years, we have been blessed with four children. We all live happily and is the family I have always wished for.

I am a member of an active WhatsApp platform that discusses marital issues and ways of resolving them. For the past three months, the topics that are discussed in this group are mostly about how these young girls are breaking people's marital homes.

The other day, a lady shared her story of how a 22-year-old girl snatched her husband from her. According to her, the relationship went on for 2 years and within those 2 years, her husband was not paying attention to them. She added that it was through prayer intervention they realized the lady had used a charm on her husband.

There are other scary marital issues people share on the platform and they scare me.

My husband on the other hand is also a very handsome man and I can't lose him to these girls who will just use a few minutes to destroy the beautiful family we have.
He has told me countless times that he will never let any woman destroy what we have built but looking at how things are going, I don't think I can trust him to that extent.

This 'for boys' thing has been on my mind for some time now, and I think I might do it.

Dear GhanaWeb is a relationship and lifestyle advice column by GhanaWeb where the GhanaWeb audience responds to your questions and problems about relationships at home, work, and beyond. Share yours with GhanaWeb mailto:via:features@ghanaweb.com.

ED/BB