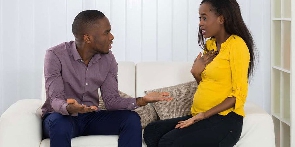 Dear GhanaWeb,
My boyfriend and I have been dating for five years now and we both love each other very much.

The beginning was very rough for us because we were both struggling to make earns meet and do other things but God been so good, in that same year we both found a job to do.

I was lucky to earn for myself a high-paying job than him. I earn GHC10,000 every month and he earns GHC2,500.

We were both happy to be working but the thing is that I mostly take care of our expenses which I am not complaining about because I feel I have to do it.

I noticed some changes in my boyfriend. We live together and for some weeks, he wasn't speaking to me, I cook and he doesn't eat. I am not the type that likes to pressure people so, I told myself that he would come around at his own pace.
But it went on for like a month. I approached him one day and asked what was eating him up. It was very hard to get him to talk but when he did, he told me he wanted a break up.

I asked him why and he replied that he feels uncomfortable with me taking care of him and other things that why he wants to break up.

I asked him if he would just throw our almost six years of relationship away because of this little issue and he said yes because he should be providing for me and not the otherwise.

I love him and am not ready to start again with another stranger.

How do I convince him to change his decision?
Dear GhanaWeb is a relationship and lifestyle advice column by GhanaWeb where the GhanaWeb audience responds to your questions and problems about relationships at home, work, and beyond. Share yours with GhanaWeb via:features@ghanaweb.com.

ED/BB

Watch the latest episode of Everyday People on GhanaWeb TV below: