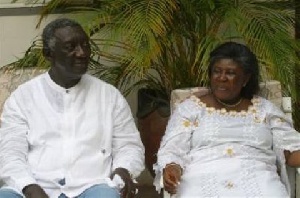 Spokesperson of former President John Agyekum Kufuor, has expressed discomfort at the death hoax rumor of the former first lady, Mrs. Theresa Kufuor.
According to him Frank Agyekum, though there is no iota of truth in the death speculation, the former President and his entire family were dismayed by the fabricated story published by the online portal as the office of the former President started receiving calls all over the world for veracity of the news.

Speaking on Okay FM's "Ade Akye Abia morning show, Mr. Frank Agyekum insisted that the wife of former President Kufuor is alive, healthy and kicking; adding that there is no truth in the story.

He, however stated that sickness is bound to occur as she is advancing in age, but it is not enough reason to speculate death, stressing that she has never been sick and currently she is in good health but deeply affected by the false publication.
"As we are aging, sickness is bound to happen and that doesn't mean that one should wickedly conclude that Mrs. Kufuor is dead; it is not true and even if there is a rumor, the proper thing is to enquire about it before coming out with such bizarre information".

"If all people will be considered dead because they are sick, then there will be nobody to live on earth. I don't even know if she has been sick and if it is true, should one conclude she is dead? Mrs. Kufuor and the former President are not happy with the false death report. It is worrisome and no matter who they are, they have a family, relatives and grandchildren and so such news will affect them; nobody should joke with death stories," he bemoaned.

He therefore pleaded with people who are fond of doing this to quickly put a stop it to the practice.