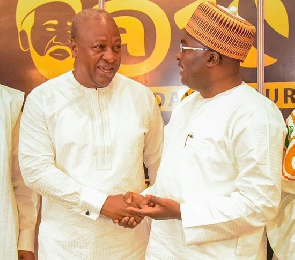 Majority Chief Whip Frank Annoh-Dompreh has outlined said there are strong reasons why Vice President Mahamudu Bawumia will emerge victorious to become the next President of Ghana after President Nana Addo Dankwa Akufo-Addo ends his second term in 2024.
According to him, he has no doubt that the next general elections will come down to a fierce contest between former President John Dramani Mahama and the vice president.

"The 2024 general election is a straight fight between Dr Mahamudu Bawumia and John Dramani Mahama," Mr Annoh-Dompreh said on Accra-based Asempa FM on Wednesday, March 29, 2023.

The Majority Chief Whip has therefore called for a debate between John Dramani Mahama and Dr Mahamudu Bawumia to see who has the best ideas for the economy.

"The fundamental question I want to ask Mahama is what's the policy alternative to 1D1F? What's President Mahama's policy alternative to Free SHS? He is just praying that we should fall on our sword".
"Look, I want to call a debate. I am calling for a debate between John Dramani Mahama and Dr Mahamudu Bawumia.

"The two of them should stand so we see who has the better ideas. I think we would see who has alternative policies," he asserted.

Asked why Dr Bawumia should debate Mr Mahama and not any other person, the Majority Chief Whip pointed out that "because he is the next in line and will win the primaries".

"I am predicting in your studios today, Dr. Bawumia will not win less 70 percent of the popular votes of the delegates. I am looking at the main one. The special one will even be worse. Let me just say this, the man is winning. I said my mind and I don't mind to spite any person and I respect all the candidates," he said.
"If you're a political strategist and you look at who can penetrate the strongholds of the NDC... Where are the strongholds of the NDC? Volta Region, Northern Region and the Zongo Communities. Without any doubt and without any disrespect to any of the candidates who want to lead our party, it's Dr Bawumia who can penetrate," he pressed.

Frank Annoh-Dompreh opined that the main opposition political party is afraid of Dr Bawumia.

"They know the harm he will cause to them. I am predicting and I am very confident Dr Bawumia will win this primary, very simply. I am not swearing but I am just telling you that based on what I've seen, based on the extensive interactions I've had, Dr Bawumia is going to win.

"Apart from my soft spot for him, I know he will be the right person to do damage to the NDC," he touted.
Albeit admitting that it will be a tough contest, the Nsawam Adoagyiri MP expressed optimism about the chances of Dr Mahamudu Bawumia beating John Mahama in the 2024 general elections.

He has, therefore, called on all delegates who will vote in the flagbearer elections of the New Patriotic Party (NPP) to vote for Dr Bawumia and stand resolute with him.

"I urge NPP delegates not to have double minds because Dr Mahamudu Bawumia is the best candidate. We should rally behind this man," Frank Annoh-Dompreh said adding that the party can decide to take his Whip position from him but his unflinching support for Dr Bawumia will not change.

Touching on Dr Bawumia garnering support from parliamentarians, he mentioned that at least 100 MPs are in agreement that the Vice President is the right person to lead the party to 2024 polls.
"More than 100 MPs have openly thrown their support behind Dr Mahamudu Bawumia," he revealed. "If you think that the influence of MPs in the upcoming primaries does not matter, that's your opinion. I am telling you that the next primaries is going to be a direction shown by Members of Parliament. We'll determine."

He rubbished allegations that the vice president has been bribing the MPs to come to his camp.

"Dr Bawumia is going to win this primaries and there's nothing anybody can do. I think this thing is about destiny and I can see the hands of God on Dr Bawumia. I can feel it in my pulse. I breathe it. I can feel the victory coming. The man is going to win," the lawmaker continued with fervour.

Ghana's general elections will be held in 2024.