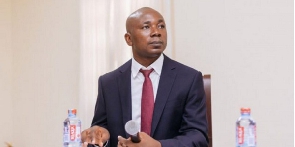 Professor Godfred Alufar Bokpin, a Financial Economist at the University of Ghana (UG) says the government's approach of including Ghanaians in the Domestic Debt Exchange Programme (DDEP) is bringing additional pain to Ghanaians.
According to him, this approach "flies in the face of our democracy".

"Ghana is under a democracy. What the government is doing right now flies in the face of our democracy. (In) a property-owning democracy, you could not do debt exchange in this manner. This suggests we are under military rule..." he lamented.

The government announced a debt exchange programme in December 2022.

The programme is part of an agenda to restore debt and financial sustainability in the economy according to the Finance Ministry.

This programme has, however, been met with pushback as individual bondholders have vowed to resist it.
Gabby's tweet

Gabby Asare Otchere-Darko, a legal practitioner and a member of the New Patriotic Party in a series of Tweets on Sunday afternoon, said the debt exchange programme is voluntary for individual bondholders but a very necessary evil for our economy.

"Its success is critical to restoring macroeconomic stability, securing an IMF programme. It hits those of us holding bonds very hard. A straight no to it is no solution," he said.

"I'm sorry but we have to face the hard/painful truths. We a'int sitting pretty. Our focus must be on how the burden to individual bondholders may be possibly eased; but not to take the hardline position of simply saying no to participation. It will come back to hit us harder!" he added.

Unwillingness of government
However, Prof Bokpin who was speaking in an interview on Peace FM's morning show 'Kokrokoo' says Ghanaians can't sacrifice when the government is not ready to "do any haircut".

"It will be difficult for it to do its part. Why do you want to take my money when you don't want to do any haircut? Government is not willing and if you're not willing you can't come to the negotiating table".

"Ghanaians are reasonable . . . people are ready to come on board this debt restructuring if they are engaged; if we build consensus. We can come out of this . . . Ghana government come to the table, build consensus, be transparent; don't do it like a military-style kind of thing," he said.