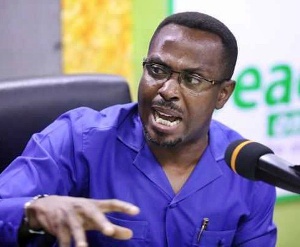 Former Central Regional Minister, Kwamena Duncan has appealed to the Ghana Association of Banks to encourage its members to acquiesce to the arrangements by Finance Minster, Ken Ofori-Atta, regarding the government's Domestic Debt Exchange Programme (DDEP).
He asked them to support the government in order to build confidence in the programme.

The government launched the DDEP last year inviting holders of bonds to voluntarily exchange approximately GH¢137 billion domestic notes and bonds including ESLA and Daakye for a package of new bonds.

As a result, existing domestic bonds were to be exchanged as of December 1, 2022, for a set of four new bonds maturing in 2027, 2029, 2032, and 2037.

But this programme has been met with vehement opposition, particularly from individual bondholders and pensioners.

Individual Bondholders' Forum (IBF), a voluntary group of individual bondholders, and Pensioner Bondholders Forum have kicked against it with the pensioners petitioning government to exempt their members holding sovereign bonds from the programme.

Reacting to the position of the bondholders, Kwamena Duncan feared there will be terrible consequences on Ghana should the government be compelled to suspend this debt exchange programme.
According to him, the Bankers' Association is a major problem to the progress of this initiative because they are failing to make their members accept the programme in good faith.

"They must bear in mind that whatever they say carries weight, especially relative to this matter and in this peroid. So, they need to be a little bit discreet in the things they put out. For instance that they are not ready and prepared to go along with this arrangement; it is dangerous," he stated and advised them as well as all Ghanaians to note that "we may be right in whichever opinion we hold. We may be correct in the assessment and evaluation we make but my point and I want to emphasize it is that it is a very sensitive matter; very sensitive! Because if we are unable to join and rally together to go over this hurdle and we suspend this, the consequences, I'm telling you, are dire . . . let us all rally together this time to go over this challenge".

He further noted the DDEP is in the interest of the nation, hence urging the bondholders and the general public to cooperate with government and endure the challenges now for the good of the country in the future.

"I assure the Ghanaian people that we will overcome this. It's a temporary setback and we will overcome this difficulty. This challenge shall be behind us," he said.

Kwamena Duncan made these submissions on Peace FM's "Kokrokoo" morning show.