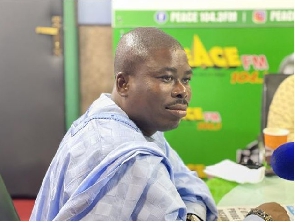 Charles Owusu has sternly warned the Akufo-Addo government to stop being stiff-nicked in making decisions that affect Ghanaians.
He cautioned the government to refrain from the attitude where they disregard the concerns of Ghanaians and that once they decide on a policy will go ahead to implement it no matter how Ghanaians feel about it.

The former Head of the Monitoring Unit at the Forestry Commission dissented to the behaviour and approach of the government in rolling out its Domestic Debt Exchange Programme which will affect Ghanaian holders of bonds as well as pensioners.

"When we say something, the government must listen. Without the people, there's no government. If the people in the country are not there, where will the government be?", he exclaimed.

He wondered why the government keep refusing to engage stakeholders and the citizenry before they decide to implement a policy but always have their minds already made up, hence ignore the grievances of the people.

Charles Owusu asked them to consult with stakeholders to reach amicable solution on how to go about this debt exchange programme, stating what they are about to do will compound the plight of many Ghanaians.
"If it doesn't affect you, discussing it isn't difficult at all but those who have used their monies for the bonds, treasury bills and are now thinking they won't get it back, some cannot sleep and others are taking BP pills. People are wailing!"

He also replied the government officials appealing to Ghanaians to support the programme saying, "if we can help the government, they must first humble themselves . . . the government must change its ways".

"If I don't understand the matter, how can I admit it? How can I agree with the government? So, government should listen to us and engage Ghanaians" on the programme, he demanded.

Charles Owusu made these submissions during Peace FM's "Kokrokoo" show Friday morning.