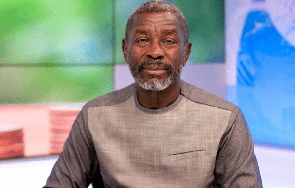 The former Chief Executive Officer of the Unique Trust Bank, Prince Kofi Amoabeng, has maintained that the decision by government through the Central Bank to collapse the financial institution in 2017 was wrong.
According to him, the Bank of Ghana erred in its decision adding that the cost of making UT Bank and others insolvent could have been used to save the indigenous banks during the clean-up exercise.

Speaking in an interview with Accra-based Citi FM on Monday, February 20, 2023, Prince Kofi Amoabeng said, "I still maintain that it was a wrong decision for them to collapse it. I wasn't even the CEO at the time. Ghana is now going for a bailout, and we couldn't bail out a successful company, but I am saying it depends on the kind of reports that went to the authorities probably it was mixed with all sorts of negative things which were not true."

He continued "A bailout was necessary because if a bank owes the government about GH¢800 million and you use GH¢2.2 billion to collapse it then that money could have been given to the bank for it to restructure under your supervision and let them pay over a period of 5 years'.

The UT Bank founder cited that in the US financial crisis which took place in 2008, banks that were given bailout packages have now repaid their debt and remain strong.

"All the banks in the US that were bailed out in 2008 have all paid up and are now strong again," he noted.
Background

The BoG revoked licences of UT Bank Ltd and Capital Bank Ltd and approved a Purchase and Assumption (P&A) transaction with GCB Bank Ltd that transferred all deposits and selected assets of the two banks after they were found to be deeply insolvent.

The Central Bank subsequently revoked the universal banking licences of five banks including UniBank Ghana Limited, Construction Bank, Sovereign Bank, Royal Bank and Beige Bank and issued a licence to a newly created bank – Consolidated Bank Ghana Limited – which is wholly owned by the Government of Ghana.

BoG further revoked the licenses of 23 insolvent savings and loans and finance house companies.

The companies are GN Savings and Loans Ltd., Ideal Finance Ltd., IFS Financial Services Ltd., Legacy Capital Savings and Loans Ltd., Midland Savings and Loans Company Ltd., Sterling Financial Services Ltd., uniCredit Savings and Loans Ltd., Women's World Banking Savings and Loans Co. Ltd., Accent Financial Services Ltd. and Adom Savings and Loans Ltd.
Others are AllTime Finance Ltd., Alpha Capital Savings and Loans Ltd., ASN Financial Services Ltd., CDH Savings and Loans Ltd., Commerz Savings and Loans Ltd., Crest Finance House Ltd., Dream Finance Company Ltd., Express Savings and Loans Company Ltd., the First African Savings and Loans Company Ltd., First Allied Savings and Loans Co. Ltd., First Ghana Savings and Loans Co. Ltd., First Trust Savings and Loans Ltd. and Global Access Savings and Loans Company Ltd.

Here is the Cedi's performance as of February 20, 2023





Watch the latest edition of BizTech and Biz Headlines below:






MA/FNOQ