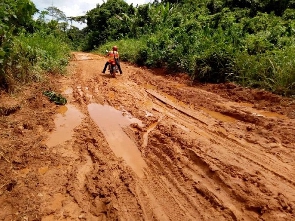 Sun, 30 Apr 2023 Source: GNA
For many years now, residents of Adakponu, Ayerumu, Keletin, Addeambra in the Krachi East Municipality of the Oti Region have continued to suffer from poor road networks linking their communities.
These communities, predominantly farmers and fishers have had their first share of the bad road.

The bad state of roads has made life unbearable for commuters and people of these communities in recent times.

Residents of the communities are up in arms with Wisdom Gidisu, the Member of Parliament (MP) for Krachi East to fulfill his campaign promise of fixing the road network in the area.

The residents told the GNA that during the 2020 campaign, the MP promised to fix the road should they vote for him to represent them in parliament, but he has failed to honour his promise without any explanation of what may have been the delay.
David Aladzi , who has been a commuter on the road for over 10 years said, sick people die on the road every day because they are unable to rush them to seek medical treatment at the point of call.

Some drivers claim as a result of the poor state of the road, the spare parts they use on their cars do not last long and therefore they are compelled to regularly buy spare parts all the time thus creating added costs for them.

Madam Ruth Amoako, a provision shopkeeper, and some others also lamented how the nature of the bad road affected their businesses.

They said if there should be competition for bad roads in Krachi East, the Ayerumu would outshine other numerous ones across the Municipality.
Source: GNA