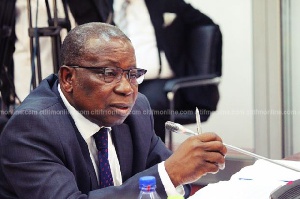 Prof Alex Dodoo, Chief Executive Officer (CEO) of the Ghana Standards Authority (GSA), has called for patients to demand better services from health practitioners when they visit hospitals and clinics.
According to him, patients represent clients in the healthcare service delivery, with health practitioners being the service providers, hence the provision of such services must be done fairly, openly and in a manner that does not infringe on the rights of the patient.

"Our plea to Ghanaians is that it is a partnership and in that partnership patients should not be silent they have a right and they must demand that right," he said.

Making a case for quality care and patient safety, Prof Dodoo explained that the era where the patient sees anybody working in the health sector as 'God' is gradually ending, with patients becoming more aware of their health needs and rights.

He observed that one of the ways to ensure quality care is through the creation of a league table of healthcare facilities in the country.

"When we begin to have league tables and assess health facilities objectively, there will be transparency in health sector and improved services," he added.

Prof Dodoo was speaking at the 3rd Dr Kwami Nyaho Tamaklo (DKNT) Medical Symposium organised by the Nyaho Dove Foundation in Accra.
Dr Elikem Tamaklo, Managing Director of Nyaho Medical Centre, said the main objective of the symposium was to create a platform that encourages stimulating discussions to influence policies in Ghana's private and public healthcare sector and consequently improve on patient outcomes.

He mentioned that the theme 'The Future of Patients' Safety In Ghana, The Way Forward' was selected as a sequel to the theme for last year, which was 'Improving The Quality of Healthcare In Ghana'.

Dr Tamaklo said it is imperative that partners in the health sector build capacity in equal care among peers.

"It is time patients' safety in Ghana is taken beyond the rhetoric and actions tabled to ensure that together key stakeholders in healthcare chart attainable milestones in Ghana's healthcare system," he said.

Ms Farida Bedwei, Co-Founder & Chief Technical Officer at Logiciel, and Dr Sodzi-Sodzi Tettey, Head of Africa Region for Institute for Healthcare Improvement, also made sterling presentations at the one-day event.