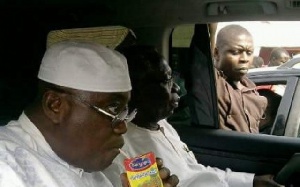 Demand for Kalypo has shot up as some Ghanaians have resorted to purchasing and drinking the product in solidarity with New Patriotic Party (NPP) presidential candidate, Nana Addo Danquah Akufo Addo, who was captured sipping one.
Nana Addo was captured sipping Kalypo during one of his campaign tours in the country and the picture went viral on Social Media. Even though some people are of the view that the picture was photoshoped to discredit the NPP leader, others are of the view that the picture has even marketed Nana Addo the more.

Speaking to some retailers and wholesalers of Kalypo, they said business has really boomed.

"More people are coming in to buy Kalypo from morning to evening which is really surprising because it wasn't the case before.
When Atinka FM's Ama Gyenfa Ofosu- Darkwah visited Aquafresh Ltd, producers of Kalypo on the Spintex Road, authorities declined to speak on the issue but our sources indicated that, the demand for Kalypo had increased.

An employee who declined anonymity confirmed that the demand had increased . "This morning, a woman came here saying her children never liked Kalypo but now crave for more after seeing Nana Addo's sip one.

Some party executives have emphasized that the craze in the country is an indication that Nana Addo is hugely accepted by the populace.