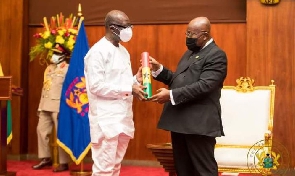 Eugene Boakye Antwi, the Member of Parliament for Subin constituency, has stated that the New Patriotic Party (NPP) MPs who called for the dismissal of Finance Minister Ken Ofori-Atta in 2022 are now awaiting a decision from President Nana Addo Dankwa Akufo-Addo.
In an interview with Joynews (May 22), Mr. Antwi emphasized that only the president holds the executive powers to dismiss the finance minister, and therefore, their role as MPs was to highlight the minister's shortcomings and explain why he should not continue in his position.

"As far as we are concerned, we have demonstrated to the entire country and the whole world that this is our decision or difficulty with the continued stay of Ken Ofori-Atta. We are waiting for the Majority Leader to either convene a meeting or for the president to convene a meeting with the majority caucus and tell us the way forward," stated the Subin MP.

Mr. Antwi further added, "It is now up to the President to say, 'look, based on what he has done, I am begging of you to let him continue or give me a few months and I will come back to you.' I do not have the power to remove Ken, my job is to expose the failings, I have done that."

In November 2022, 98 NPP MPs demanded the immediate removal of Ofori-Atta, accusing him of economic mismanagement. They petitioned the President to either dismiss him or face a parliamentary boycott. However, after a meeting, they agreed to President Akufo-Addo's request to allow both Ken Ofori-Atta and Minister of State at the Finance Ministry, Charles Adu Boahen, to remain in office until after the IMF negotiation concluded.

Following the approval of Ghana's IMF bailout, the Subin MP noted that inquiries about the next steps regarding the position of Mr. Ofori-Atta should be directed to the President. Mr. Antwi emphasized their support for the President and their efforts to convey that the Finance Minister's continued presence at the ministry could have negative electoral consequences in the coming year.
When asked if the Majority Caucus had conducted an investigation into who could potentially replace Mr. Ofori-Atta, he responded, "Was Akufo-Addo experienced before becoming president? Was Ken Ofori-Atta experienced before becoming Finance Minister? Was I an experienced one before becoming an MP? We all learn on the job. Experience is not bought in the market. You learn. You learn to acquire experience by doing the job."



You can also watch the latest episode of People & Places here




Meanwhile, watch the latest episode of SayItLoud on GhanaWeb TV below:








GA/SARA