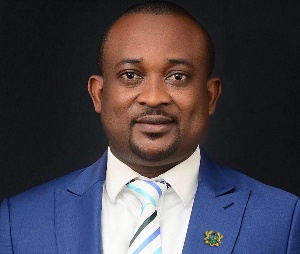 Deputy Sports Minister Pius Hadzide has rubbished calls for government to make public the report that exonerated him in the Australia visa racketeering scandal.
His comments follow demands from the public for government to release details of the report exonerating him and the Board Chairman of the National Sports Authority (NSA) Kwadjo Baah Agyemang.

The Deputy Sports Minister Pius Hadzide and board chairman of the National Sports Authority Kwadwo Baah Agyeman who were both suspended following the scandal have been reinstated by President Akufo-Addo.

A communication from the presidency – the Jubilee House – said the duo have been exonerated by the police report and can resume work.

"The report of the enquiry into the allegations, which was submitted to the President on Friday, 6th July, 2018, contained no adverse findings against them," the Director of Communications at the presidency Eugene Arhin said in a statement.

A former head of the Commission on Human Rights and Administrative Justice (CHRAJ) Justice Emile Short recently backed calls for government to publish the report of the Police investigations that exonerated the deputy sports minister and the Board chairman of NAS in the Australia visa scandal.


"I would prefer that we have a full report of the investigation and the grounds on which the investigative body arrived at its conclusion which led to the exoneration of Pius Ahadzie. We shouldn't focus on the President announcing the exoneration instead of the Investigating Body. The substance of the report should be a major concern," he told Morning Starr host Francis Abban Tuesday July 10, 2018.

Speaking to Starr News Mr. Hadzide described the calls as misplaced, saying: "…If anybody wants to see what the report contains he or she may have to find…dignified manner to make this request" than to expect the police to make it public via a news conference.

"…This is not the first time that investigations have been made and the report has been duly submitted. I do not believe that investigations were supposed to work in that structure.

"I believe that there should be a best way to approach the police or whichever body is in custody of the report. But don't fly across the table as though the police were supposed to organize a press conference to publish the report of the investigations," he added.
Meanwhile, a former senior governance advisor to the UN, Prof Agyeman Baffour-Duah says the president is not obliged to make details of the report public.

"He has suspended these people, nobody told him to do so. He suspended the people saying I need to hear more about this case and he did his own investigations and he feels satisfied that they were not committing crime and therefore he gave them back their post. That's in order," he told Starr news.

He added: "It will help the government itself in view of the high public interest for the President to share the report but I don't he is obliged under any law to do."