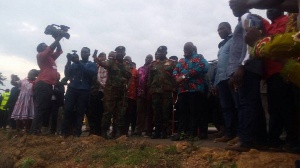 The acting President of the Denkyira Traditional Council Nana Adjei has said his council has decided to change the name of Denkyira-Boase to New Oboase following the gruesome killing of Major Maxwell Adam Mahama there.
He said the move is to rebrand the town and give it a new lease of life.

Denkyira-Boasi became popular after the infamous murder of a Military Officer, who had been sent to the community to battle illegal mining in May.

Speaking at a durbar of chiefs and people during a visit by President Akufo-Addo Monday, Nana Adjei said the people of Denkyira-Boasi have regretted their actions and deserve a second chance.

"We have just ended our 3-day fasting and prayer session, where we asked God for forgiveness and so we believe the Lord has forgiven us. And we also want to ask Ghanaians to forgive us for everything. The people have regretted their actions and require another opportunity.

"I have met with my council and we have agreed to go back to our old name which is New Oboasi so henceforth we want the town to be called New Oboasi and not Denkyira Oboasi," he said.
Meanwhile, the President who visited the scene of the crime said government will ensure that the law deals with people involved in the murder.

He, however, assured the people that he does not perceive all of them as suspects in the killing.

" I have not forgotten about you at all. You are Ghanaians and have the right to enjoy all the policies that are being initiated by my government.

Those who committed the crime will be dealt with by the law and so the rest of you will receive your fair share of the national cake," the President said.