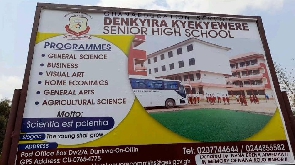 Correspondence from Central Region
The staff and management of Denkyira Kyekyewere Community Day Senior High School (D-KESS) in the Central region, have pleaded with the government, non-governmental organisations (NGOs) to assist the school by providing a boarding facility for the school to improve teaching and learning.

They lamented that the current situation of the school hinders academic work and has great impact on both the teachers and the students.

Williams Bart-Plange, the headmaster of Denkyira Kyekyewere Community Day Senior High School, made the earnest appeal in an interview with GhanaWeb at Denkyira Kyekyewere.

According to him, the lack of a boarding facility has made the students' tardiness worse and affects their studies.

Additionally, the school's location makes it challenging to find housing, and as a result, the majority of students who have been placed there decline the offer, which has an impact on the number of enrollment
He also claimed that the few students who managed to find housing in nearby areas had to travel long distances to get to school, which was expensive for them.

He consequently made a plea to the government, non-profit organisations, and other interested parties to establish boarding house in order to address the issues, particularly the lateness to school as some of the students come from distant locations such as Praprapabida, Zion Camp, Kumakrom, and beyond.

The Twafohene of the Denkyira Kyekyewere Traditional Area, Nana Ntow Wirenkyi II, praised the government for its free secondary school policy and invited Denkyira natives living domestically and overseas to donate boarding space for the institution.

Meanwhile, the absence of a boarding facility at the school, according to the students, has had a significant negative influence on their education.