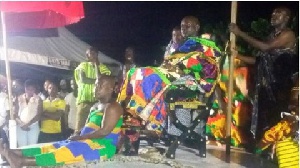 The Denkyira Traditional Council has changed the name Denkyira Boase to New Boase.
This comes on the back of the bad name given the town after its residents lynched a soldier, Major Maxwell Mahama, who was sent there to combat illegal mining in May this year.

Speaking at a durbar in honour of President Nana Addo Dankwa Akufo-Addo who visited the area on Monday 7 August 2017, the acting president for the Council, Nana Adjei Nkyerewie II, said about 40-days ago they observed a three-day fasting and prayers and asked forgiveness from God for the heinous crime inhabitants of the town committed.

He noted that they believe God has forgiven the town and so the decision to change the name.
Nana Akufo-Addo on his part condemned the act of people putting the law into their hands and lynching suspects.

He admonished Ghanaians to hand over suspected criminals to the police for the law to deal with them.