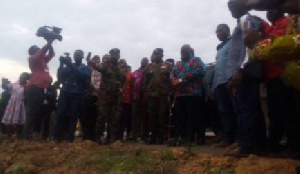 The Denkyira Traditional Council in the Central Region has changed the name of the infamous town Denkyira Obuasi to New Obuasi.
The acting President of the Council, Nana Adjei Nkyerewie who made the announcement at a durbur held in honour of President Akufo-Addo on Monday 7th August 2017, said the people regret their reprehensible actions and are committed to turning on a new leaf.

"About 40 days ago we observed a 3-day fasting and prayer session, where we asked God for forgiveness and so we believe God has forgiven us. And we also want to ask Ghanaians to forgive us for everything. The people have regretted their actions and require another opportunity.

"I have met with my council and we have agreed to go back to our old name which is New Obuasi so henceforth we want the town to be called New Obuasi and not Denkyira Obuasi," he said.

President Akufo-Addo visited the scene where Major Mahama was killed by the residents.
The town made the headlines for the wrong reason some three months ago following the gruesome murder of a Military Officer, Major Maxwell Mahama by residents at a time the deceased had been posted to the area on national assignment.

Meanwhile, the President condemned the killing of the army officer but assured the people that his government will not deny them of developmental projects since they are part of the country.

He visited the infamous town as part of a 5-day working tour of the Western and Central Regions of the Country.