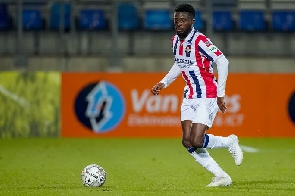 Willem II Tilburg's Dutch-born Ghanaian defender, Leeroy Owusu, has expressed his optimism that the club will soon make its triumphant return to the Eredivisie.
As his departure from the team has been confirmed, Owusu took to Instagram to convey his positive outlook for the future of the club.

In a heartfelt post, Owusu extended his gratitude to the Tricolores for the time he spent with Willem II.

He wrote, "Thank you, Tricolores, for my time at Willem II. With the fantastic crowd here, the club will return to the Eredivisie, where it belongs. In football, you never know, so for now, goodbye!"

Owusu's departure marks the end of his three-year tenure with Willem II Tilburg, having joined the club from De Graafschap in 2020.
During his time with the team, the 26-year-old right-back played a pivotal role in their endeavors to secure promotion to the top flight.

Having featured in 38 games in the Dutch second tier, Owusu showcased his abilities by scoring two goals and providing six assists.

Over the course of his three-year spell with Willem II Tilburg, Leeroy Owusu accumulated a total of 102 appearances, scoring two goals, and providing 12 assists.