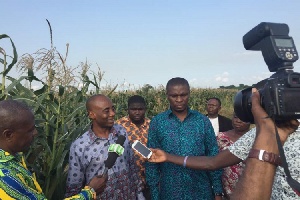 Sun, 30 Jul 2017 Source: GNA
A Deputy Minister of Food and Agriculture (MoFA), Dr. Sagre Bambangi, has paid a visit to the National Service Scheme's (NSS) farm at Dahwenya in the Greater Accra Region.
The visit was to afford him the opportunity to acquaint himself with the extent of the infestation and to also monitor the progress of work in the fight against the spread of Armyworms.

The fall Armyworms have destroyed many farms in some parts of the country, particularly the Ashanti, Greater Accra, Brong Ahafo and the Eastern Regions, causing destructions to crops, especially Maize and Cocoa.

Dr. Bambangi, in an interaction with the media, said he was happy with the work being done and called on farmers to strictly follow the directions of the Ministry in combating the Armyworms infestation.

He said Government was concerned with the outbreak of Armyworms, since it has the tendency to derail efforts at revamping the agriculture sector and has made available the needed logistics in order to combat the concern.
The Executive Director of the NSS, Mustapha USSIF, said the Ministry is supporting the Scheme with seedlings, technical support and chemicals to ensure that a bumper harvest is achieved.

He thanked the Ministry for the support given them adding that the Scheme would support the President's "Planting For Food Policy" by deploying over 2100 Service Personnel in that regard.

The Acting Director of Crops MoFA, Seth Osei-Akoto, rebutted the claims that, detergents such as Omo, "Alata" and others could be used to fight Armyworms invasion on farms and called on farmers to follow the information provided by extension officers.
Source: GNA