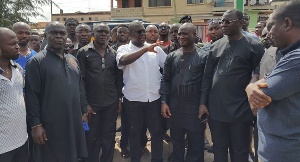 Deputy Chief of Staff, Francis Asenso-Boakye, has led a team comprising major stakeholders to the premises of Royal Gas Filling Station at Bantama in Kumasi to make an assessment.
Mr Asenso-Boakye, a native of the area, has received numerous petitions from scores of people and identifiable bodies in the area in relation to the siting of the Royal Gas Station.

The deputy chief of staff therefore decided to pay an unannounced visit to the premises of the gas station to determine if indeed the gas station in the area poses threat to people in the area.

He was accompanied by Hassan Tampuli, Chief Executive Officer (CEO) of National Petroleum Authority (NPA) and Deputy Minister for Energy in-charge of Petroleum, Mohammed Amin Adam, among others.

During the inspection, it came to light that Royal Gas Filling Station was just five meters away from houses even though the law states that the distance between gas stations and houses should be 500 meters.

Mr Asenso-Boakye said the siting of the facility, which is close to houses, National Cultural Center and the Komfo Anokye Teaching Hospital (KATH) was inappropriate.

The deputy chief of staff, who is adored by Bantama residents, gave assurance that appropriate measures would be taken by relevant bodies as soon possible to help address the problem.
Hassan Tampuli, on his part, confirmed that indeed the existence of the gas station in the area poses great danger to the people, adding that the concerns of the petitioners would be addressed very soon.

He announced that in two weeks' time, based on cabinet directive, a team would tour the country to close down gas stations that are deemed to be high risk to help avert disasters.

According to him, per the law gas stations should be sited 500 meters away from houses, schools and social centers, among others, noting that the directive would be implemented effectively.

Mr Tampuli stated that gas stations that would be found to be low risk would be converted into auto refill centers, stressing that the new government policy is intended to avert gas explosions.

Mohammed Amin Adam stated that the new policy is not meant to collapse gas stations, but help modernize and boost the operations of gas stations.

Mr Amin said the law was not enforced during the construction of Royal Gas Station at Bantama 10 years ago.