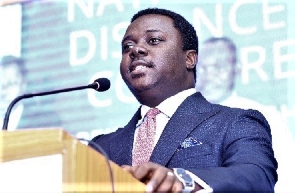 The deputy education minister, John Ntim Fordjour, has strongly denounced Excellence Publications for publishing a textbook that contains content vilifying Christianity.
In a tweet dated May 26, Mr. Fordjour, who also serves as the MP for Assin South, criticized the obnoxious and misconceived content found in the textbook titled 'History of Ghana for Basic Schools'.

Expressing his condemnation of the book's offensive nature, he raised concerns about its presence in the market, where unsuspecting learners may come across the misleading material.

"I completely condemn the highly objectionable content found in a textbook published by 'Excellence Publications' and secretly distributed in the market for unsuspecting learners. The content is appalling and misconceived," he stated in his tweet.

The Deputy Minister praised the swift recall of the books from the market by the National Council for Curriculum and Assessment (NaCCA).

He further highlighted the significant role of religion in the country, emphasizing the need for writers to handle such topics with caution.

"Ghana enjoys peace for a reason, and we must not underestimate the crucial role of religion," he emphasized.
I condemn entirely the rather obnoxious content found in a textbook published by 'Excellence Publications' and smuggled into the market for unsuspecting learners. The content is appalling and misconceived. I support NaCCA's swift action to recall the books and apply sanction.… pic.twitter.com/yG89GA0XUv

— John Ntim Fordjour MP (@NtimFordjour) May 25, 2023
You can also watch the latest episode of People & Places:
Meanwhile, watch the latest episode of SayItLoud on GhanaWeb TV below:








GA/SARA