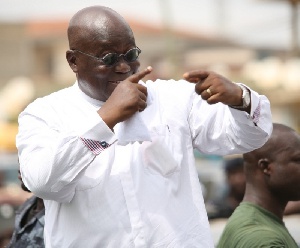 The flagbearer of the New Patriotic Party Nana Akufo-Addo has said he feels a stronger desire for change among Ghanaians this time around.
According to him, his campaign tour across the country reaffirms his belief that Ghanaians are eager to change the Mahama government come December 7.

Addressing the media in Kumasi in the Ashanti region, the former Attorney General said he is confident that Ghanaians want to chart a new course with the destiny of the state.

"There is a very strong desire that we should change and chart a new direction. Ghanaians desire for change is very strong and that is what I see and sense, and that's what I hope for," Nana Addo stated.

The three-time flagbearer also appealed to Ashantis to come out and vote on election day.
"I need the help of Asanteman. NPP needs the help of Asanteman in this year's elections. I appeal to all persons of voting age in Asanteman to come out in their numbers to vote for me and the party on 7 December.

"Your support is very crucial in getting the Elephant to Jubilee House. The NPP's policies will create jobs, stabilise the cedi, stabilise the economy".

Nana Addo faces off with President John Mahama of the NDC in a poll many have described as too close to call.