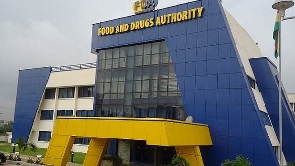 Fri, 18 Aug 2023 Source: GNA
The Food and Drugs Authority (FDA) has cautioned players in the food chain, particularly market women, food vendors, to desist from the persistent adulteration of food and ingredients or face prosecution.
The Authority observed that the contamination of food with chemicals and other substances to deceive buyers and maximise profit had become rife in some markets in the country.

Madam Nora Narki Tei-Larbi, the Director of Regional Operations at FDA, said the unwholesome practice undermined food safety and resulted in dire health implications such as cancer and, sometimes, death.

"People have been arrested and prosecuted for various infractions and we are still prosecuting. There are some that we have in court now and so we need to put a stop to it," she said.

Madam Tei-Larbi was addressing market women at Kasoa during an education and sensitisation exercise to mark the Central Region's World Food Safety Day.

Held on the theme: "Food Standards, Save Lives," the event created a platform for exciting dialogue among the market women, the FDA, representatives of the local governments and other stakeholders, on the best ways to ensure food safety.
Sharing their experiences and concerns, the market women opened up on the use of Sudan IV dye in palm oil, mixing groundnut paste with 'Kokonte', adulterating corn dough with yeast and using "tie-and-dye" colour to process beef.

Others also had issues with the excessive use of fertilizer and other chemicals to increase yield or expedite the ripening of fruits and vegetables, which caused them to perish quickly.

For others, they were concerned about drug peddling and the sales of aphrodisiacs in the market.

Madam Tei-Larbi noted that lacing palm oil with Sudan IV dye had been a long-time practice that became rife in 2022, largely due to the high demand for red oil.

"Our oil is not red anymore because our local palm is on the verge of extinction. What we have is the Agric palm and that does not give red palm oil," she said.
"We are asking everybody in the value chain to stop the adulteration because the Sudan IV dye causes cancer and must not be eaten."

She urged citizens to be vigilant when buying foodstuffs since it was impossible to identify an adulterated food or ingredient and entreated the market women to police one another and report perpetrators to the FDA for sanctioning.

Madam Francisca Obeng, the Central Regional Head of FDA, reiterating the need for food safety, advised against the use of rotten vegetables such as onions and tomatoes for public foods in a bid to cut cost or avoid losses.

She urged food vendors to acquire Street Food Vending Permits to legitimise their operations.

Madam Anita Obo Amissah, the Municipal Chief Executive of Awutu-Senya-East, who shared her experience of an adulterated groundnut paste, appealed to the market women to stop the act.
She implored them not to sell expired products to the public, while entreating the public to be wary of same.

"Let us stop poisoning our food because our health is important. If you do not have good health, you may use all your money to heal yourself," she said.

She urged the FDA to frequently educate the public on food safety to ensure adherence.

Nana Barfi Okoto, the Otumfuo Brempon, Adontenhen of Adomfe, deplored the level of filth and the general unhygienic environment at the Kasoa New Market.

He said people had thrown hygiene to the wind and were selling by heaps of refuse in and around the market while most of them urinated at inappropriate places.
"Hygiene is necessary when it comes to food because poor sanitation causes food poisoning, sickness, and death," he said.

"When Covid-19 came, we were all washing our hands regularly but now we do not do that any longer. We need to return to that practice."

He urged the Assembly to build a public toilet for the market to ensure personal hygiene.

"Let us have the fear of God in us and desist from selling poisoned foods to the public."
Source: GNA