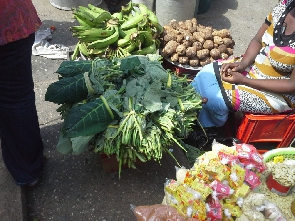 The District Minister of Koforidua Ascension Congregation of the Presbyterian Church of Ghana, Rev. Justice Kwame Asumeng, has rebuked Ghanaians for being ungrateful to God for protecting the country from the severe scourge of COVID-19 pandemic which has affected the global economy.
Government has blamed Ghana's struggling economic situation on COVID-19 and Russia's invasion of Ukraine. The Country is currently seeking a $3billion IMF bailout loan to revive the debt distressed economy unleashing hardship on Ghanaians.

However, the Presbyterian Minister Justice Kwame Asumeng says Ghana was not much affected by COVID-19 pandemic compared to other countries therefore must be grateful to God for his kindness.

He recounted his personal experience in the UK where it got to a point, people were queueing for basic essentials such as water.

"Thank God, it has been about five months now since I came from the UK. We queued for water. Did you queue to buy water during covid pandemic? Ungrateful people. Covid in UK over 300,000 people died.

"How many people died in Ghana.[I'm not preaching politics, I'm preaching to the people of Ghana] .Let us be grateful to God .In Ghana we don't have national planes .Go to Gatwick, go to Heathrow, over 3000 airlines were brought to their knees. What have we lost as a nation? Just because of a little hunger.
"But in Ghana you can get nkomtomire (Taro leaves) in your backyard, get abeduru (Turkey berry), and get food. Oh God! Forgive us [Ghanaians] our sins, we are ungrateful. Some countries are facing severe drought, in Ghana the sun is shining but we still get taro leaves to buy in the market, you will get snails. Ghanaians are ungrateful," Rev. Justice Kwame Asumeng said.

He said this when the New Juaben traditional council in collaboration with Koforidua Local Council of Churches, Ghana Pentecostal and Charismatic Council, as well as other churches in the traditional area held a thanksgiving service on Sunday March 12,2023.

Rev. Kwame Asumeng charged people at top positions to remember their past to encourage them to serve the people well to alleviate poverty among the populace.

He assured Omanhene Daasebre Kwaku Boateng III, that just as God prepared David to lead his people, so as he has been prepared to lead New Juaben into the path of development and growth.

Omanhene of New Juaben Daasebre Kwaku Boateng III reiterated his call for sustained unity to create the enabling environment for development.
Municipal Chief Executive for New Juaben Ike Appaw Gyasi who spoke on behalf of the Eastern Regional Minister Seth Kwame Acheampong urged residents of New Juaben to take advantage of the free senior high School policy to provide their children quality education.

He said Technical and Vocational education has received a major boost by the government to provide skill training to the youth to curb the high rate of unemployment.

In attendance at the Thanksgiving service were Muslim chiefs, Divisional and Sub-chiefs, Pastors, Bishops, Gabby Asare Okyere Darko and Wife as well members of the various churches.