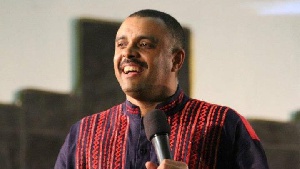 Bishop Dag Heward-Mills, founder and presiding bishop of the United Denominations Originating from the Lighthouse Group of Churches has explained why he resigned from his position as a member of the Board of Trustees of the National Cathedral project.
Why I resigned as BoT member

In a letter cited in a Citinewsroom.com report, Heward-Mills emphasized among others, how his serial requests for clarity on a number of corporate governance and funding issues had been left unattended to.

He also cited the circumstances around which he was omitted in the registration process of the trustees, even though his image had been used on the project website as a Board of Trustees member.

Strong support for the project

He, however, stressed that despite having resigned as a trustee, he is not against the construction of the national cathedral.

"…I do not wish the media or general public to construe my withdrawal as a sign of a lack of support or belief in the building of the National Cathedral," his letter of resignation read in part.
The Akufo-Addo government's controversial House of God

One of the top priorities of the Nana Addo Dankwa Akufo-Addo's government is the building of a 5,000-seater Cathedral in fulfilment of a pledge made by the President to God before winning the 2016 elections.

According to the President, the construction of the National Cathedral is pivotal to the development of Ghana.

He explained that the country's comparative performance against neighbouring countries is mainly by the grace of God. President Nana Addo Dankwa Akufo-Addo on March 16 appointed a 13-Member Board of Trustees to spearhead Ghana's National Cathedral.

At their inauguration at the Jubilee House, the President said the 13-member Board of Trustees will be in charge of the National Cathedral when it is completed. The members are:

1. Apostle Prof. Opoku Onyinah, former Chairman of the Church of Pentecost – Chairperson
2. Archbishop Charles Gabriel Palmer-Buckle, Metropolitan Catholic Archbishop, Cape Coast – Vice Chairman

3. Most Rev. Bishop Justice Ofei Akrofi, Anglican Archbishop Emeritus – Member

4. Rt. Rev. Prof. Emmanuel Martey, former Moderator of the Presbyterian Church – Member

5. Most Rev T. K. Awotwi Pratt, Presiding Bishop of the Methodist Church – Member

6. Rev Prof Cephas Omenyo, Moderator of the Presbyterian Church – Member

7. Pastor Mensa Otabil, General Overseer of International Central Gospel Church – Member
8. Archbishop Nicholas Duncan-Williams, Presiding Archbishop and General Overseer of Action Chapel International – Member

9. Rev Dr Joyce Aryee, Executive Director, Salt and Light Ministries – Member

10. Bishop Dag Heward-Mills, Presiding Bishop, Lighthouse Group of Churches – Member

11. Rev Eastwood Anaba, Founder and President of Eastwood Anaba Ministries – Member

12. Rev Victor Kusi-Boateng, Founder of Power Chapel Worldwide – Member/Secretary

13. Rev Dr Frimpong Manso, General Superintendent, Assemblies of God – Member
At the National Cathedral Secretariat, there is an appointed Executive Director known as Dr. Paul Opoku-Mensah with two (2) representatives of the United States (UN).

However, in August 2022 Bishop Dag Heward-Mills resigned as a member of the Board of Trustees.

SARA/SEA