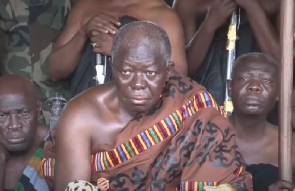 The King of Asante, Otumfuo Osei Tutu II has been hailed for his recent drastic measures taken against some of his sub-chiefs accused of engaging in illegal mining known in the local parlance as galamsey.
Member of Parliament for Bosome Freho Constituency Hon Akwasi Darko Boateng praised Otumfuo over his decision to destool some of his Chiefs over illegal activities

Speaking to the media in an interview, the lawmaker accepted the fact that, galamsey in the area is destroying most water bodies hence a better way of managing the situation must be undertaken.

"I'm happy that, the overlord of the Asante Kingdom Asantehene Otumfuo Osei Tutu II said he will destool any Chief who engages in illegal mining activity (galamsey). It is a good step that comes to support the decision by President Akufo-Addo to fight galamsey", Hon Akwasi Darko Boateng.

He also accused some Chiefs in the area of releasing lands to these illegal miners who keep destroying water bodies and forest reserves.

"Some of the Chiefs who are bitterly complaining about the menace are the same people who release lands for these galamseyers". He claimed
Otumfuo Osei Tutu destools five Chiefs

Asantehene Otumfuo Osei Tutu II has so far destooled at least five chiefs in the full glare of the public for misconducting themselves.

The reasons for destoolment of these Chiefs include their involvement in illegal sale of lands, mining activities popularly known as 'galamsey' and abandoning of stool and land issues.

The five chiefs include Antoahene Nana Owusu Agyeman I who was destooled in May for sidestepping the Asantehene and delegating his nephew to take his position while Kwasohene Nana Nketia Bampon was destooled in June following an alleged payment of GH120,000 made to him to secure a vacant 'Dikro' stool at Kwaso and was also alleged to have been involved in the sale of multiple lands.

The Bekwai-Abodomhene Nana Saforo Koto was destooled in August this year as a result of charges against him regarding his sale of lands to illegal miners; Nkonsohene Nana Osei Tiri II was destooled for disrespecting a ruling the Asantehene had made on land litigation and the Abuontemhene Nana Kwaku Duah III was destooled on Monday, August 21.