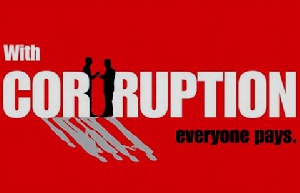 The Ghana Integrity Initiative (GII), has acknowledged that "digitalisation is changing the ways we communicate, and how we do business and as a result reduced the corruption rate in Ghana".
In a press release issued to the Ghana News Agency, on Thursday, the Transparency International (TI), noted that "the 2017 Corruption Perceptions Index (CPI) had ranked Ghana, 81 out of 180 countries and territories included in this year's CPI, to fight against corruption".

The Alliance for Integrity also posited that advanced technology is enabling new risk management tools to monitor and detect fraud automatically.

The GII acknowledged the fact that some of the new initiatives started by government such as the Paperless Port Clearing System, E-Procurement and the Digital Addressing System had improved business integrity and ultimately reduced corruption in the public sector.

The GII said, another area requiring digitalisation was the implementation of the Infrastructure for Poverty Eradication Programme (IPEP), in addition to putting in place clear policy guidelines among others to reduce red tape and eliminate opportunities for people entrusted with power to misuse it for private gain.

It however recommended that Government should demonstrate more practical commitment to fighting corruption by enacting key legislation such as the Right to Information (RTI), Witness Protection, and the Conduct of Public Officer's Bill.

The GII also stated that, the newly created Office of the Special Prosecutor, together with anti-corruption institutions such as the Commission on Human Rights and Administrative Justice (CHRAJ) should be adequately resourced.
It suggested that Government and businesses must do more to encourage an open and engaged civil society to see the need to fight against corruption.

It encouraged civil society to hold political and institutional leadership accountable and enthused citizens to report issues related to corruption when they become victims and witnesses of some, as prescribed by the National Anti-Corruption Action Plan (NACAP).

However, using nine out of the 13 data sources of independent institutions with high level of credibility, the 2017 CPI score indicates that, in spite of Ghana's numerous efforts to fight corruption, the canker is still a serious problem.

While comparing Ghana's performance to other sub-Saharan African countries, the press release said, although Ghana performed better than 36 other Sub-Saharan African countries, including Benin 39, Swaziland 38, Zambia 37, and Tanzania 36, Ghana nonetheless performed below 11 other Sub-Saharan African countries.

The GII urged Ghanaians to prioritise the mainstreaming of anti-corruption measures into the 17 UN Sustainable Development Goals in order to achieve the target of substantially reducing bribery and corruption by 2030.